magazines and posters
Introduction
Welcome to the Gallery of Surf Classics, the world's only website devoted to vintage surf movie posters. The Gallery is a virtual museum with over 450 surf movie posters and lobby cards from the 60's. I launched the site in 1999 and added rare surf music albums from the collection of Jamie Clark in 2012.
Many friends have helped with the site including Tim DeLaVega, Boyd Scofield, Jamie Clark, Bob Smith, Wayne D. Roten, Al Hunt and my webmaster Adam Richardson. I want to give credit and thanks to Didac Piquer of Montjuich Surfboards for allowing me to use his surf movie descriptions from his Surf Film Filmography. Also thanks to Albie Thoms for information from his book Surfmovies.
The posters on this site have been copyrighted by the filmmakers. They may not be reproduced without my written permission and permission from the filmmakers.
Feel free to contact me if you are interested in buying, selling or trading surf movie posters. I would also appreciate your comments and any ideas you may have on this site.
Stoked,

The History of Surf Movie Posters
by Boyd Scofield
As a direct means of advertising any product or service, posters have long been the primary resource in "getting the word out". Composed of typically either or both graphics and text, basic posters such as the early "desperado wanted" posters of the Wild West would later evolve into what are now considered works of art with their garish graphics and vivid illustrations. The early circus posters and Buffalo Bill's Wild West Shows poster depictions of the 19th and 20th centuries are still highly valued and collectible today. The Art Nouveau and later the Art Deco movements brought exciting imagery to the fore in poster creativity. Works by artists such as Toulouse-Latrec have sold in the millions of dollars.
Often considered mere ephemera by the general public, most posters were discarded after serving their initial purpose. The few that survived are now seen as a look back into another time. A unique opportunity and way to view the popular culture of that particular period that no longer exists. In this respect, Surf movie posters are no different.
Bud Browne has the distinction of being the very first commercial Surfing Movie Director in 1953 with his release of "Hawaiian Surfing Movie". Although a new Bud Browne film followed every year through 1964, the very first known surf movie poster is Bud's 1957 release "The Big Surf". This simply designed poster is extremely rare and features Bud's own drawing of a surfer charging down the face of a large Hawaiian bomber. Bud obviously inspired all others who followed in the late 1950s including John Severson, Bruce Brown and Greg Noll. The 1960s brought us more with Walt Phillips, Bob Bagley, J. Perkinson, Dale Davis, Bill Stromberg, Don Brown, Jim Freeman, Greg McGillivray, Grant Rohloff and Paul Witzig. The 1970s introduced us to the film work of George Greenough, Hal Jepsen, Curt Mastalka, Albert Falzon, Dickie Hoole, Jack McCoy, Larry Yates and Scott Dittrich.
All of these disciples of Bud Browne accompanied their Surf movies with a poster to advertise the film and venue in which it would be shown. Many of these posters featured the director's own creative artwork or photography and became "works of art" in their own right. A young and at the time unknown Rick Griffin got his start working for Surfboard manufacturer and aspiring film director Greg Noll. In addition to later creating "Surfer" magazine, film director John Severson designed his own posters and is today recognized as the leading artist in conveying Surf Culture. His posters, oil and acrylic paintings, block prints, photos and sketches are in strong demand fetching hundreds to thousands of dollars.
The surviving posters of most of these pioneer directors' Surfing Movies today command top dollar as a representative medium of their time. As with all collectible artwork, scarcity and condition are the deciding factors in valuation.
Collecting Surf Movie Posters
by Keith Maynard Eshelman

There are many reasons why we collect surf movie posters. Some collect to identify with their childhood, some like the surf art, some want to remember that certain movie they saw that made a significant impact in their life. I've met collectors that want all the posters from movies made by certain filmmakers. For example, they may want posters from all eight of John Severson's surf movies. Other collectors may try and find all the posters that were shown at a certain venue. Example of venues would be the Roxy Theatre in Pacific Beach or the Santa Monica Civic Auditorium.
In my opinion there are three posters that I would classify as super rare…
The value of a surf movie poster is determined by the rarity, demand and condition. Posters were produced in small quantities and often printed on inexpensive paper. They were posted on telephone poles to announce the showing of the surf movie. Many of them were thrown away or were taken by the surfers and ended up tacked on their walls at home. The condition of the poster is very important. Here is a condition guide:
Mint- near perfect, looks like it just came off the press, no blemishes or defects.
Excellent- bright and clean, a few pinholes, minor creases or dings, no tape marks. Also may be described as fine.
Very Good- slight stains, fading, small tears, and few pinholes. As much as ¼ inch can be missing from border or corner.
Good- Heavily worn, tears. Torn or missing paper up to ½ inch, tape marks. Slight browning of paper, mild fading.
Fair- major rips, tears, creases, missing paper, pinholes
Poor- destroyed, worn, torn, brittle, taped and missing corners, water damage.
As an example of value, let's look at John Severson's poster Big Wednesday. This poster has always been valued high because of John's Severson classic art of a surfer riding a huge wave on black and orange. I would say rarity and demand would be high and availability would be low. Big Wednesday was valued at $250 in mint condition in Tim DeLaVega's Surfing Collectibles Guide published in 2000. Recently, I have seen the poster sell for between $150 and $200. Common posters valued at $150 in 2000, may now sell between $100 and $125. If you are buying posters, you need to watch for reproductions. Be sure you buy from reputable sellers because it is often difficult to tell if a poster has been reproduced.
In my opinion there are three posters that I would classify as super rare. Bud Browne's 1957 poster of The Big Surf, Greg Noll's 1958 poster of Surfing Highlights and Bruce Brown's 1958 green version of Slippery When Wet. The Big Surf and Slippery When Wet posters are silk screened on cardboard. I would value each of these three posters between $500 and $1,000. Several years ago, Surfing Highlights sold on Ebay for $1,200. In July 2011, two of these posters in very good condition with creases and tears, Surfing Highlights and Slippery When Wet, sold as a set for $2,200 at Randy Rarick's Hawaiian Islands Vintage Surf Auction.
Now what does the collector want to do with his surf movie poster. Posters must be protected from moisture, humidity, heat, light, acidity and bugs. The collector has to decide how he is going to store or display the poster. Posters can be kept flat or rolled in tubes. Posters should be stored in archival safe sleeves. Many collectors store their posters in Mylar sleeves or poly (polyethylene or polypropylene) sleeves with acid-free backing boards. The sleeves may be individual or kept in display books. If you frame the poster, we strongly recommend museum quality archival framing.
Maynard's Biography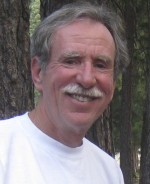 Keith Maynard Eshelman grew up in Palos Verdes and began surfing in 1960. When he moved to San Diego in 1966 to attend San Diego State, he took with him a sealed box of old magazines. His passion for surf collecting began when he opened the box up 25 years later and discovered the first five years of Surfer Magazine and a few surf movie posters. For the past 25 years, he has been buying, selling and trading surf magazines and surf movie posters.
Keith launched the website The Gallery of Surf Classics in September 1999. This site is a virtual museum with over 450 surf movie posters from the 60's. Tim DeLaVega, a friend from Kauai, asked Keith to be the Poster Editor in his first book Surfing Collectibles Guide #1, Magazine & Poster Issue, published in 2000.
Keith is a major collector of surf memorabilia and his collections have been featured in numerous books and magazines including:
Keith performs professional appraisals of surfing memorabilia and has been an expert appraiser for Randy Rarick's Hawaiian Islands Vintage Surf Auctions and Scott Bass's Sacred Craft Surf Expos and the Boardroom.
With a background in public accounting, Keith has been the CFO of a large multi-office construction company for the past 30 years. He is a Founding Partner and past Treasurer of SHACC (Surfing Heritage and Culture Center). Keith is married with three children and can be found surfing at San Diego North County beaches.
John Severson, Bruce Brown, Greg Macgillivray and Matt Warshaw